FLAMINGO WATERPARK ADVENTURE
MAKING MEMORIES WITH FAMILY FUN AND ADVENTURE!

Our "Crazy Flamingo" and his sea-faring friends say "Welcome!" to the best water park resort in kissimmee. Join us for wet and wild fun in the Flamingo Waterpark Resort, with a state-of-the-art water park just outside your door…
Available for hotel guests only, Flamingo Waterpark competes with pricier Orlando area water parks and attractions. The Waterpark is conveniently located in the heart of our property and all family and friends will find uplifting fun under the sun. 
Whether it's an exhilarating run down one of our 3 water slides, a splash in the zero depth kid's pool or a relaxing trip around the lazy river, there's something for everyone at the Flamingo Waterpark Resort. If you're just looking to relax, stay cool in the pool or grab a tube and ride our lazy river. But if it's an adventure you seek, hit our 30-foot tower for a wet plunge and get wild on the water park slides!.
For more details, please call our waterpark department at 407-846-2221 ext. 1567.

Included up to 4 persons per room as part of nightly Resort Fee.
Additional passes can be purchased at $20 each (only 2 extra pases per stay).

POOL SAFETY – OUR # 1 PRIORITY
Here at the Flamingo Waterpark, we're committed to the safety of each and every guest — and this starts at our water park. We've instituted some simple rules and regulations to help your family stay safe during your visit:
For your comfort and security, all registered guests MUST wear their wristbands for the duration of your stay in order to access hotel facilities.
Only Hotel Guests are allowed to use our Waterpark and Pool Areas, visitors are not allowed.
Kids under 4 must wear protective swim pants, which are available for sale in our store. Please check diapers and visit the restroom early and often.
Kids under 13 must be supervised at all times by an adult aged 18 years or older.
Kids under 13 may not use the adult whirlpools.
While in the pool, young children and weak swimmers must remain within arm's reach of an adult.
Parents and guardians are ultimately responsible for the safety of their children.
Only U.S. Coast Guard-approved flotation devices are acceptable and may not substitute adult supervision.
Swimming attire must be proper and appropriate based on management discretion.
The water park will close due to inclement weather and scheduled safety breaks.
Deck chairs may not be reserved. Chairs identified as vacant will be made available to others.
Slides have a minimum height requirement of 44 inches.
250 lbs. maximum weight per rider.
Towels remain in the water park area.
Follow specific safety signage at each attraction, pool and spa area.
Not Permitted:

Smoking
Diving and running
Coolers
Food and beverage from outside sources (not including plastic bottles of water, baby food, dietary or medicinal needs)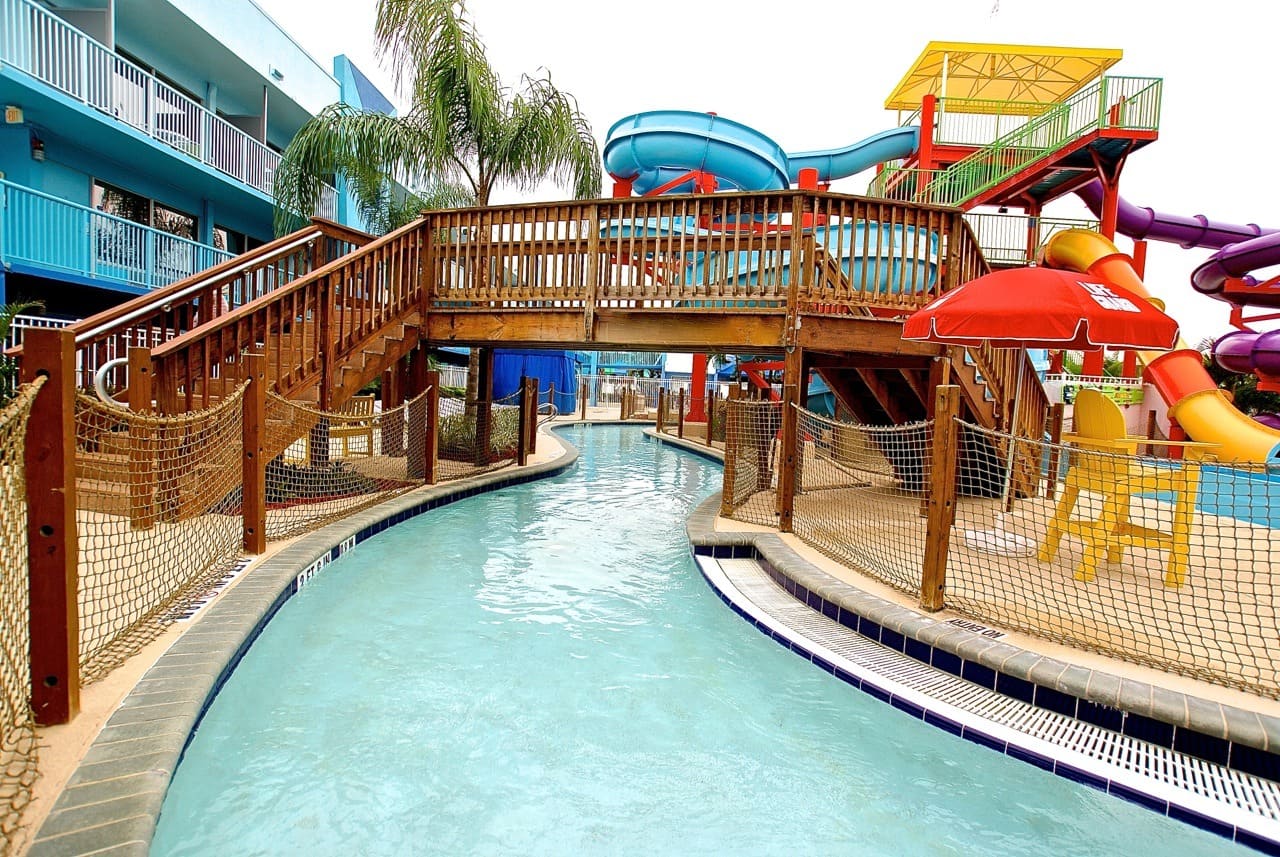 THE WATERPARK IN NUMBERS !
120,000 gallons of water park fun
500 ft of waterpark sliding action, twisting drops and dark plunges
6 Waterpark Attractions
3 Main Slides
6 Kiddy Slides
2 Pool Areas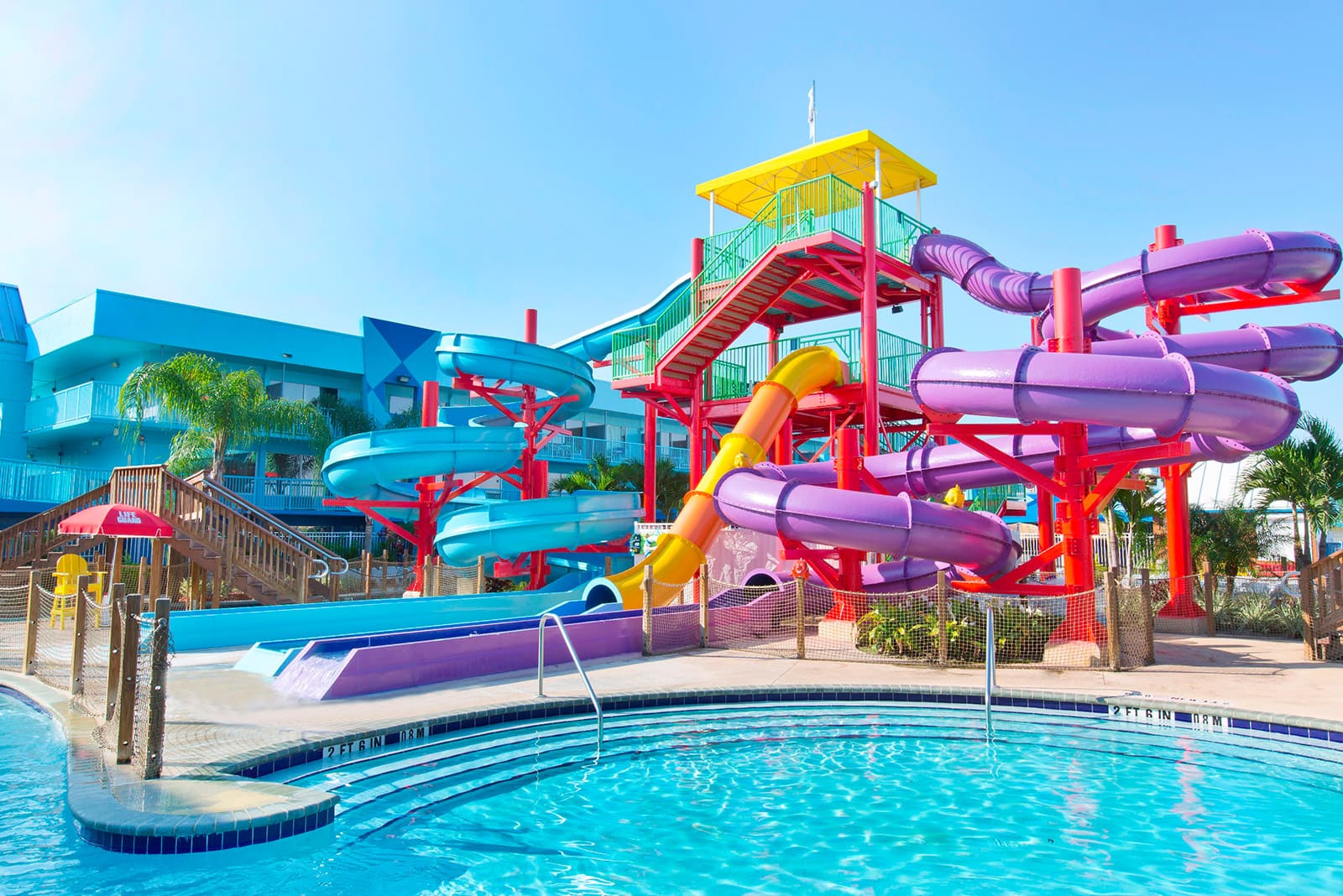 SLIDE TOWER
Get wet and get wild on our Waterpark Slide Tower designed for children and adults with a minimum height requirement of 44 inches to ride slides. Features include:
30 ft high Tower
Two levels- 18 and 30 foot heights
3 body slides with over 20 drops, turns and twists
LEVEL 1 Rocket down the 18-foot high DripDrop speed slide with near vertical drop that provides a sensation of falling 35 feet. Exit into a run out and do it again! Height requirements are between 48-63 inches.
LEVEL 2 Blue Hydra: Whoosh through our 186 feet long Blue Hydra speed slide with 9 twists, turns and drops, exiting into a run out.
LEVEL 2 Purple Scream: Zoom through the darkness in our 178 feet long enclosed Purple Scream speed slide with 9 twists, turns and drops, exiting into a run out.
3 Main Slides
6 Kiddy Slides
2 Pool Areas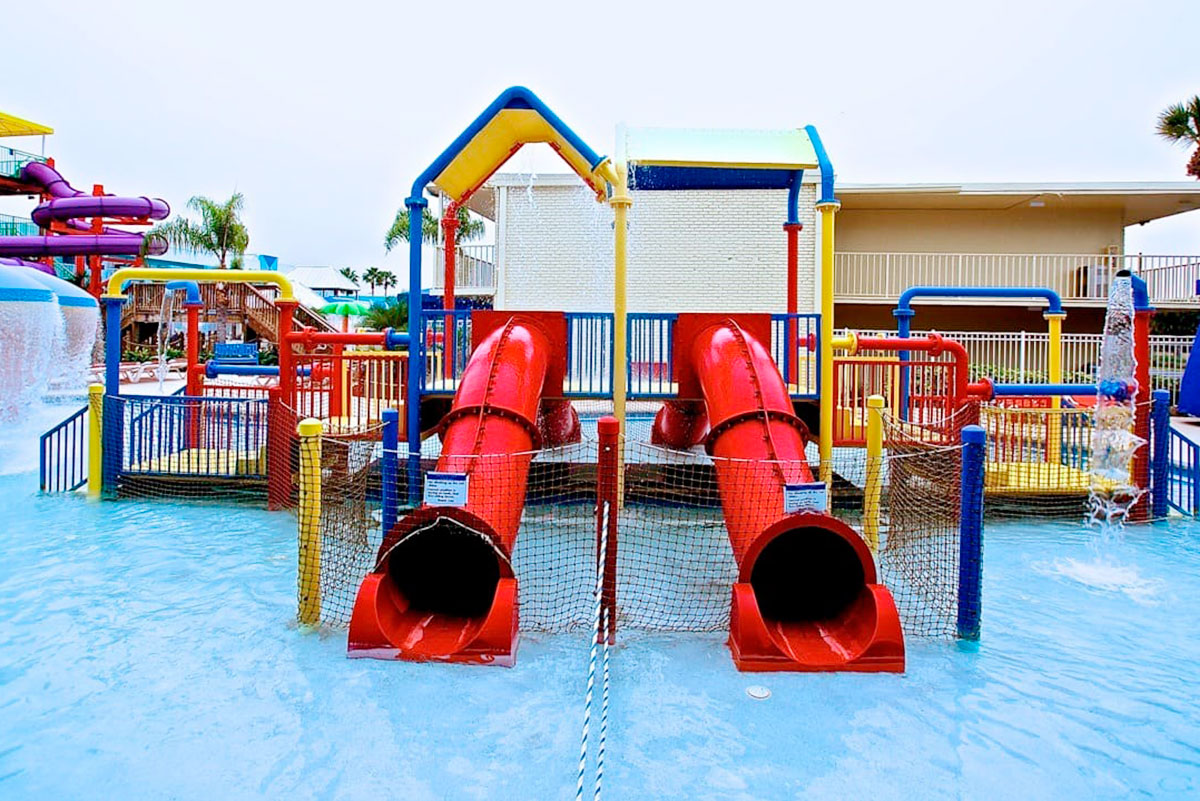 PLAY ZONE
Find adventure in our 2,137 square foot children's area with 9000 gallons of heated sparkling water, 6 inches to 18 inches deep, interactive rainfalls and jets shooting over a play structure with four slides and two palm tree raindrops.
Certified safety staff supervises this area.
TOT SPOT
Enjoy hours of fun with our 584 square feet Waterpark Interactive Water Feature designed for toddlers to 12yr olds. Friendly pelican and frog slides, a zero-depth wet deck and ten spray jets and allow for lots of safe splashing.
LAZY RIVER
Float around 630 feet of lazy river designed for guests of all ages with small children and weak swimmers accompanied by a responsible adult. Features include:
Floats
Zero depth entry
Ladders for exiting
Palm tree raindrop at entrance
Waterfall effect under bridges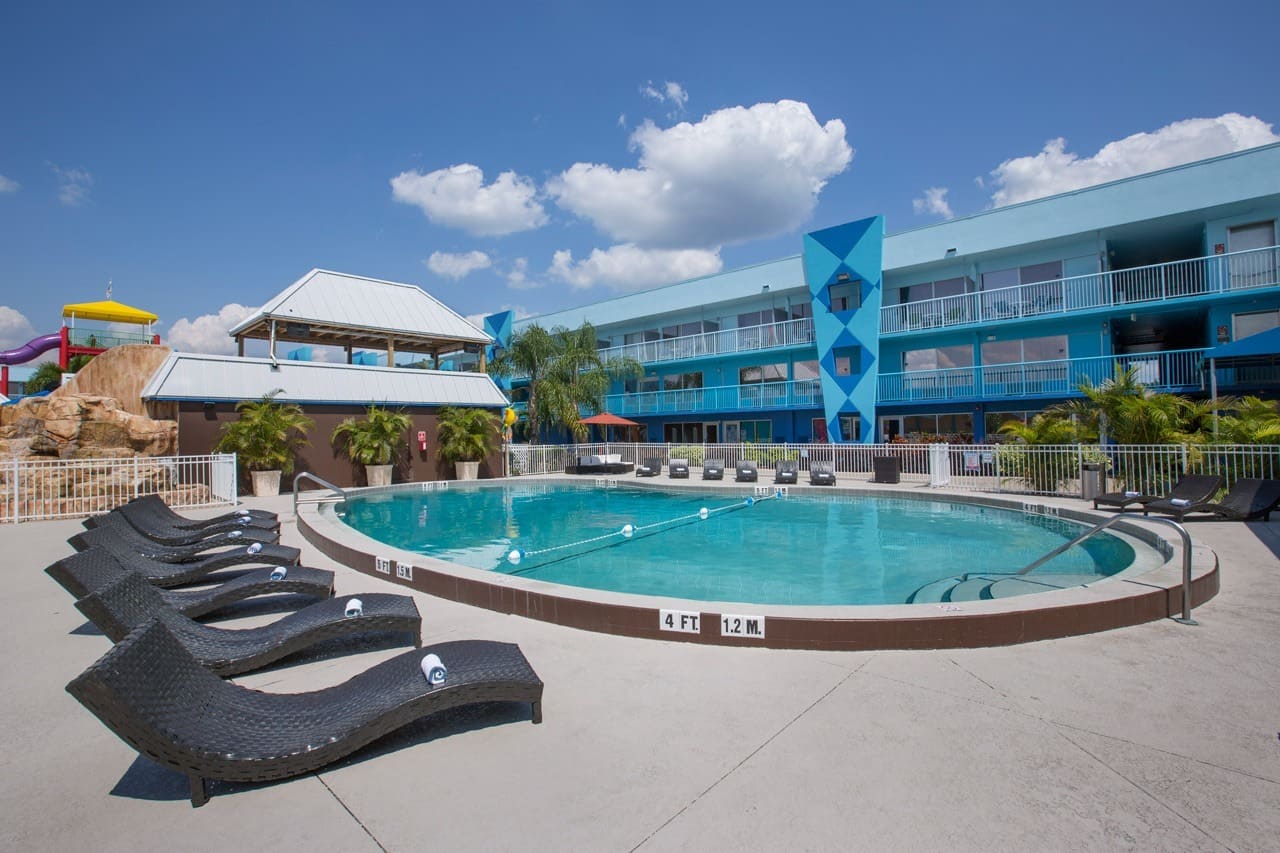 Swim and splash in our 48,000-gallon swimming pooldesigned for guests to relax on a quiet environment with bar services. Depths range from 4 feet to 8 feet.
Relax in our 90 square foot heated spa designed for guests ages 12 and over.
* Children under 12 may overheat and need to be accompanied by a responsible adult.