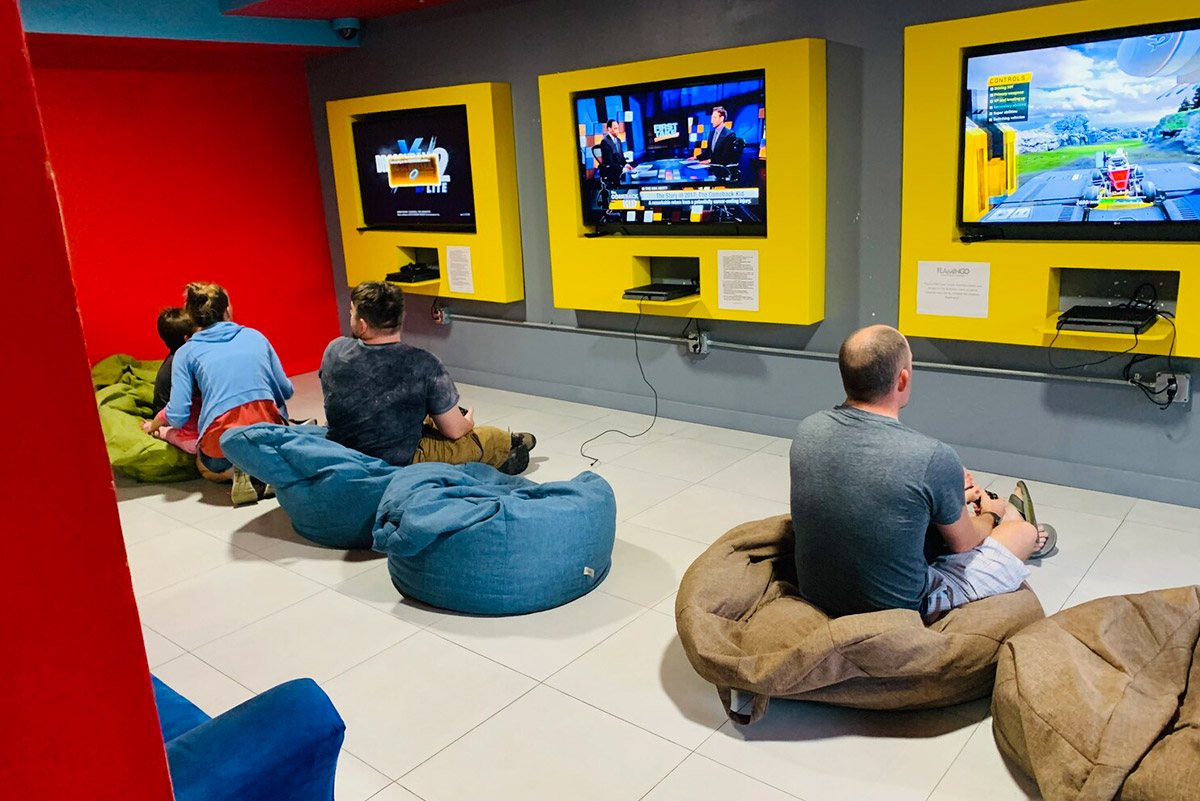 SALA DE ACTIVIDADES, SALA DE JUEGOS Y SALA DE CINE !
¡Nuestros amenities están abiertos y listos para darle la bienvenida a la diversión familiar!
Juega en nuestra sala de juegos, diviértete en la sala de actividades, disfruta de una película en nuestra sala de cine.
Sin costo adicional (incluido en el Resort Fee). Consulta los horarios en Front Desk.
DIVERSIÓN – ¡ES EL MODO DE VIDA DE LA FLORIDA!
¡HACIENDO RECUERDOS CON DIVERSIÓN Y AVENTURA EN FAMILIA!

¡Hay tantas cosas que hacer en los alrededores de Orlando Kissimmee que no es de extrañar por qué lo llaman la capital mundial de la diversión familiar! Esta área de Florida ha sido conocida durante mucho tiempo por sus numerosas atracciones y parques emocionantes. Aquí, en el Flamingo Waterpark Resort, brindamos a los huéspedes un lugar inmejorable para quedarse, con su primera atracción de Florida justo afuera de su puerta: nuestro parque acuático de última generación con 120,000 galones de diversión en el parque acuático, 500 pies de parque acuático deslizante. acción, caídas retorcidas y zambullidas oscuras, 3 toboganes principales, 6 toboganes para niños, nuestro lazy river y mucho más.
Nuestra conveniente ubicación, ¡nunca se quedará sin cosas que hacer aquí en el área de Orlando Kissimmee!

Con nuestros increibles amenities en el lugar más nuestra conveniente ubicación, ¡nunca se quedará sin cosas que hacer aquí en el área de Orlando Kissimmee! Ya sea que esté planeando su primera, segunda o vigésima visita, siempre hay algo nuevo que hacer y ver en Orlando y sus alrededores. Aquí están algunos de nuestros favoritos:
OSCEOLA HERITAGE PARK® Inaugurado en 2003, Osceola Heritage Park es el único lugar en Florida Central que tiene 150 acres abiertos, una arena interior y un centro de conferencias. El lugar, administrado por SMG, está dedicado a brindar entretenimiento de clase mundial al condado de Osceola, al mismo tiempo que brinda un hogar para eventos comunitarios y filantrópicos.
MAGIC KINGDOM® Park ofrece días y noches de diversión para todas las edades. Hogar de las princesas de Disney y el pintoresco Castillo de Cenicienta, Piratas del Caribe y "es un mundo pequeño", el Parque Magic Kingdom® es un clásico de Disney. ¡A solo 20 minutos!
EPCOT® es una aventura fascinante con muchas oportunidades de aprendizaje para una amplia gama de edades. ¡A solo 20 minutos!
SEAWORLD® ORLANDO ofrece espectáculos de ballenas y delfines, un área para acariciar animales marinos y la oportunidad de alimentar mantarrayas, así como una montaña rusa sin piso de 65 mph llamada Kraken. Discovery Cove® en SeaWorld® invita a los huéspedes a un mundo estilo centro turístico de lagunas y playas de arena para bucear en un arrecife de coral, nadar con delfines, mantarrayas y observar una variedad de pájaros coloridos. ¡A solo 17 minutos!
OTRAS ATRACCIONES DEL ÁREA Y COSAS QUE HACER  ALREDEDOR DE ORLANDO, FLORIDA:
Universal City Walk Cafés, Clubs, Restaurants, and Shopping
Medieval Times Dinner Show & Tournament
Gatorland Orlando
Osceola Heritage Park
Osceola County Stadium and Silver Spurs Arena
Orlando Premium Outlets 
Y mucho más!
UNIVERSAL STUDIOS® Florida lo coloca justo en el medio de sus películas y programas de televisión favoritos con atracciones como Shrek 4-D ™, Men In Black ™ Alien Attack ™ y Fear Factor Live. No olvide visitar la mega atracción de Los Simpson. ¡A solo 17 minutos!
DISNEY'S HOLLYWOOD STUDIOS ™ celebra la realización de películas con juegos y atracciones con los favoritos de Disney. Una de las exhibiciones más nuevas muestra disfraces y accesorios de Journey into Narnia: Prince Caspian. ¡A solo 20 minutos!
El parque temático DISNEY'S ANIMAL KINGDOM® cuenta con animales reales, safaris de estilo africano, viajes de rescate de dinosaurios "máquina del tiempo", Finding Nemo – The Musical inspirado en Finding Nemo de Disney Pixar y Expedition Everest ™ – atracción Legend of the Forbidden Mountain, una gran atracción paseo rápido para los amantes de la adrenalina. ¡A solo 20 minutos!
UNIVERSAL'S ISLANDS OF ADVENTURE® da vida a personajes de tus historietas, dibujos animados e historias infantiles favoritas. Únase a Spiderman® en una aventura en 3-D, vea The Cat in the Hat® y monte en atracciones fantásticas inspiradas en Seuss, o suba a bordo de Dueling Dragons®, una montaña rusa invertida de 125 pies de altura. Y el recientemente inaugurado Mundo Mágico de Harry Potter. ¡A solo 17 minutos!
¡Nuestros agentes de servicio al cliente pueden ayudarlo con boletos, direcciones y planificar su visita a todas las atracciones mencionadas!
También podemos ofrecer descuentos para eventos, atracciones y otras cosas que hacer en el área de Orlando y Kissimmee. ¡Pregúntenos!